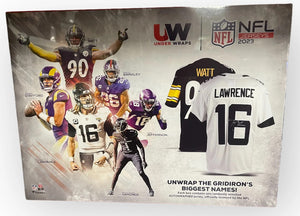 2023 Under Wraps Single Autographed NFL Jersey Box from Fanatics Authentic.
Each box features an authentic hand-signed autograph from an NFL player in one of these four categories: Hall of Fame (1:2), Pro Bowl (1:4), Rising Star (1:5) and All-Pro (1:16).
Each jersey also comes with an individually numbered, tamper-evident hologram to ensure its authenticity. Jerseys are NFL licensed jerseys.